iGroom
Luxury Pet Beauty Care
iGroom
iGroom is a leading luxury pet beauty and health company with a reputation for the finest scientifically-developed shampoos, conditioners, skin cares and other products available for pets.
Relying on the latest technology and using only the best naturally inspired ingredients, iGroom's team of experts have meticulously researched and crafted unparalleled pet care products for discerning pet owners – and satisfied dogs and cats. iGroom products keep your pets' skin and coats beautiful, healthy, and protected.
iGroom was created by pet lovers for pet lovers, by professionals for professionals, including Jennifer Lee, world-renowned pet stylist and grooming expert, who collaborated with a team of skilled experts to add professional experiences and advanced chemistry to grooming products. We are proud to support real-world groomers and pet owners who demand the highest quality for their beloved dogs and cats.
With this first-hand expertise and a meticulous commitment to quality, iGroom has developed carefully-constructed products that solve the most frustrating grooming challenges. iGroom is proud to offer the highest quality products that keep pets looking beautiful and feeling healthy.
All iGroom products are proudly made in the USA!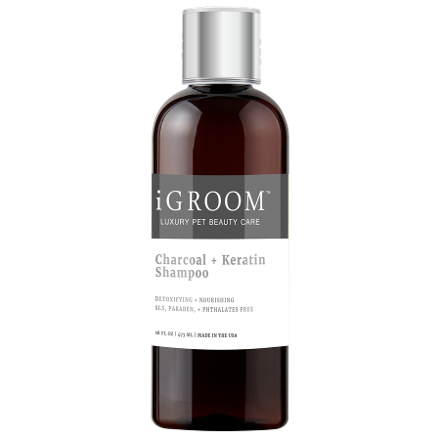 Charcoal + Keratin Shampoo
Charcoal + Keratin Shampoo is formulated for ultimate pet cleansing without irritation — leaving skin stronger and healthier. Specifically, The special scientifically-developed formula has the perfect pH for dog and cat skin, including bamboo charcoal to absorb minerals, toxins, impurities, and other harmful substances. The unique keratin complex contains various hydrolyzed keratin & vegetable proteins to add excellent conditioning and moisture to your pet's coat.
NO Silicone

NO Sulfates

NO Parabens

NO Phthalates

NO Animal

Ingredients

Naturally Inspired

Environmentally Sustainable
Contains Vitamins for body & thickness

Intense cleaning power

Adds moisture

Contains vegetable proteins

Contains keratin amino acids

Repairs damage

Enhances Volume

Recommended pH level

Detoxifies with charcoal
© Copyright Squeaky Clean K-9's