Essential Oils and cleaners
Thieves Household Cleaner, The Pet-Safe Cleaner
Many believe that they are cleaning their home and preventing illness by using bleach and other commercial cleaners. But, while trying to kill germs and protect your family and pets from getting sick, you are unknowingly hurting them. Everyday household cleaners that the animals are
exposed to or accidentally get into can cause skin irritations, allergies and accidental poisoning. The first agent of chemical warfare, chlorine, is in most store-brand cleaners. Yet, scientists won't even handle chlorine without protection, but we put it in all kinds of household products, including dishwasher detergents.
Is there a way to keep your home clean while keeping your family and pets safe from toxins?
Yes, there is! I use the Thieves Household Cleaner from Young Living. It is now the only cleaner I will use! It is safe for pets and kids to inhale and walk on, even when wet. It is even safe if they ingest in it some way, such as licking it off of their paws. Plus, it smells fantastic!
Thieves Household Cleaner is an all-natural ingredient formulation to distribute the power of therapeutic-grade essential oils in your home while killing germs. The Thieves essential oil blend is founded on the legend of a group of thieves in fourteenth century France who used clove, rosemary, and other aromatics while robbing plague victims in order to stay immune. The oils are combined with natural surfactants to produce a powerfully effective cleaner. The cleaner is Green Seal Certified and compliant with EPA Design for Environment standards.
You can use Thieves Household Cleaner for all of your cleaning needs. It cleans, deodorizes, and degreases. You can use it to clean almost anything such as dishes, laundry, dog buckets, crates pans, toys, windows, bathrooms, stains, floors, wood, leather, upholstery, and walls! I use it for cleaning up all my animal "issues." I use it to clean animal water buckets, food dishes, and dog crates. I don't have to worry about leaving any residue because it is fine for them to consume (can't say that about bleach!).
CLEANING: As we know, many pets will lick their feet, the floor, inside of kennels and if toxic chemicals are used to clean these items, your cat or dog is ingesting poison. Also, think about what is meant to go in their mouths or licked like toys, bowls and food dishes. Not only does it clean well and I feel good knowing none of my pets will get sick, it also smells great.
ACCIDENTS: Also, having a pet in your home means that inevitably you will need to clean up an accident at some point. Spot cleaning rugs, carpets and upholstery, wiping out kennels can be done using all-natural and safe Thieves Household Cleaner.
ALLERGIES: A common cause of allergies and skin irritations are due to all the toxins and chemicals that are introduced to our bodies. This happens to our animal companions too. One easy step to take is to start to eliminate the chemicals in your home. There are many other factors such as the overall health of the cat or dog, their diet, exercise and what kind of maintenance care plan you have them on.
Moonlily Wellness Therapeutic Grade Essential Oils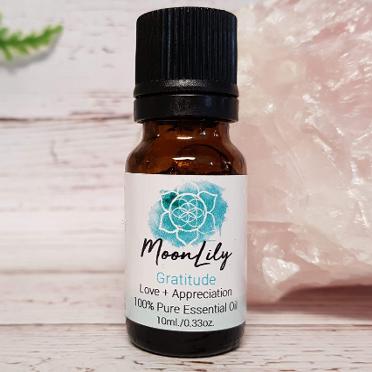 Gratitude Synergy Blend, a blend made to help encourage love and appreciation. That's the same gratitude we feel for our clients!
Ingredients: Grapefruit (Citrus paradisi) peel oil, Spearmint (Mentha spicata) leaf oil, Blood Orange (Citrus sinensis) peel oil, Bergamot (Citrus bergamia) fruit oil, Elemi (Canarium commune) oil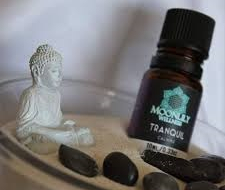 Tranquil Synergy Blend, a blend to induce a meditative state with this grounding and peaceful blend.
Patchouli (Pogostemon cablin), Frankincense (Boswelia serrata), Cinnamon Leaf (Cinnamomum verum)
© Copyright Squeaky Clean K-9's